Winners Announced for the Lincolnshire Sport & Physical Activity Awards 2022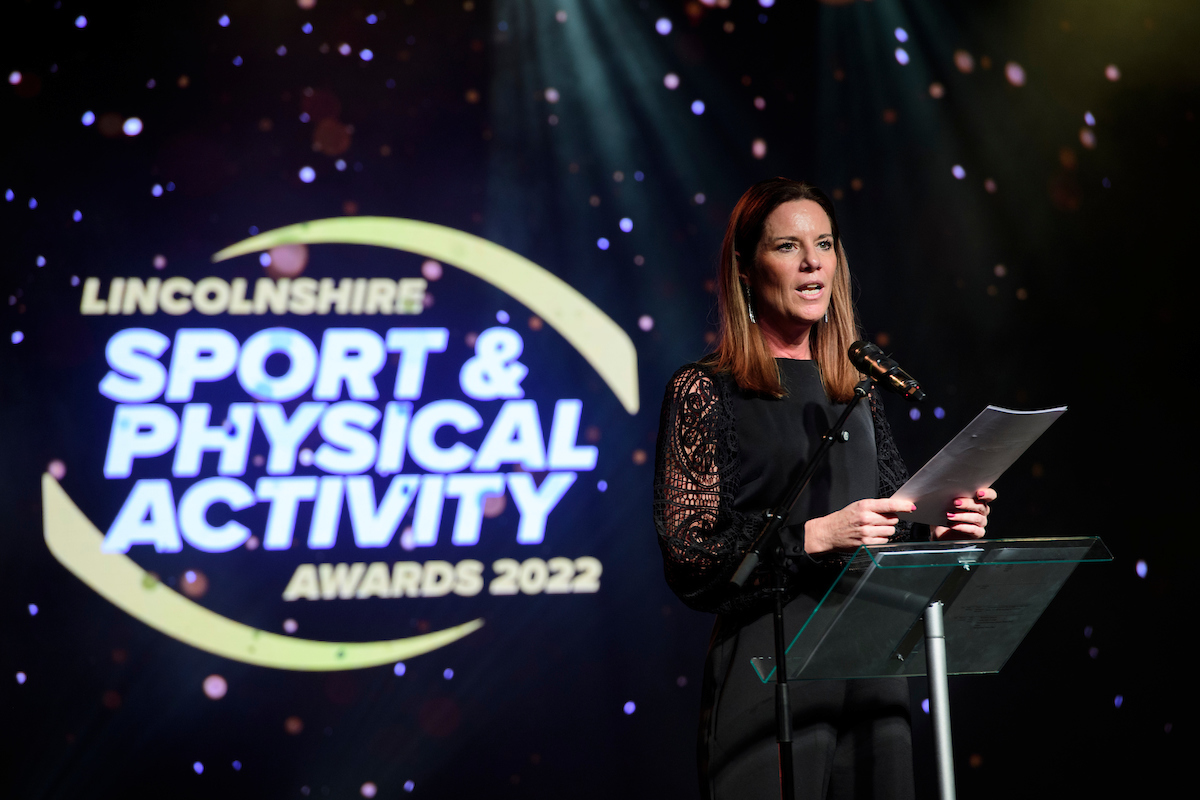 The work of amazing individuals and organisations who support physical activity across Greater Lincolnshire has been celebrated at the Lincolnshire Sport & Physical Activity Awards 2022.
Organised by Active Lincolnshire and sponsored by Lincoln Water Park, the 18th edition of the awards was held at the Engine Shed in Lincoln and hosted by Lincs FM presenter John Marshall. In front of an audience of over 250 people, the inspiring stories and successes of forty-one finalists were shared, before crowning fourteen deserving winners.
From unsung heroes of grassroots sports clubs and volunteers who give up their time to support others to be active, to businesses and organisations creating opportunities to allow people facing the greatest barriers to be active, the awards recognised the commitment and passion of those people and organisations who actively contribute to the health and wellbeing of the Lincolnshire residents through sport and physical activity.
There were an abundance of Team Lincolnshire ambassadors sponsoring the awards on the night, and the ceremony photography was carried out by fellow ambassador Chris Vaughan - a stellar evening of support and collaboration!
Emma Tatlow, CEO of Active Lincolnshire said: "We've once again been impressed and inspired by the incredible stories of all our finalists and winners. It's wonderful to see the positive impact of the amazing work that is happening across Lincolnshire, and to have a chance to recognise and say thank you to all those individuals, groups, organisations, and businesses that show such passion and dedication to keeping our county active and healthy.
We'd like to say a sincere thanks to all our awards sponsors and headline sponsor, Lincoln Water Park for their generosity in making the awards possible. And a huge congratulations to all our deserving winners, and finalists who should be very proud of their achievements.
Suzi Nightingale, Managing Director of Lincoln Water Park, added: "For us, it is important to support local incentives that encourage people to be active. It's not necessarily about the best athletic ability, but for us is about enjoying what you do and striving to be your best.
"These awards celebrate commitment and achievement and include community involvement and the passion of all the supporting teams involved. It's a pleasure to support the awards and recognise the incredible work of individuals, volunteers, organisations, schools and clubs across Lincolnshire helping to keep the county active."
This year's awards included several new categories to reflect the refreshed Let's Move Lincolnshire Strategy's focus on tackling inequalities and breaking down barriers to being more active. Spearheaded by Active Lincolnshire, the vision of the strategy is to make Lincolnshire a place where everyone has the opportunity to be physically active every day.
The new awards for 2022 included The Uniting Lincolnshire Award, which was awarded to Jo Knight from YMCA Lincolnshire for a project working with young people to improve wellbeing and community belonging, and the Inclusion and Diversity Award, sponsored by England Golf and awarded to the Lincolnshire Netball's Walking Back project which enabled participants to return to walking netball following the pandemic.
Other awards included:
the Active Club Award which was won by Lincoln Invictus, an inclusive football club based in Lincoln;
 the Active School Award was won by Caythorpe Primary school in recognition of their work creating inclusive opportunities for pupils to be active;
the Outstanding Contribution to Sport & Physical Activity Award, sponsored by Leonardo, was won by Lincoln Basketball for their work using basketball to engage their local community.
Full list of winners below:
Contribution to Children & Young People Award, Sponsored by Lincoln Waterpark
Winner: Kristen Ingraham-Morgan for the Strong Girl Squad Project
Workplace Wellbeing Award, sponsored by Active Lincolnshire
Winner: Wright Vigar
Innovation Award, supported by Fizzco
Winner: Dance Free Community Interest Company
Health & Wellbeing Award, supported by the Engine Shed
Winner: Ann Riddell
Influencer Award, sponsored by Chestnut Homes
Winner: Chris Duncan
Active Change Award, sponsored by One You Lincolnshire
Winner: Kevin Stow
Active School Award, sponsored by Lincolnshire Agricultural Society
Winner: Caythorpe Primary School
Inclusion & Diversity Award, sponsored by England Golf
Winner: Walking Back - Lincolnshire Walking Netball
Unsung Hero Award, sponsored by Everyone Active
Winner: Carolyn Blackburn
Volunteer Commitment Award, sponsored by Leon James Personal Training
Winner: Carl wall
Active Community Award, sponsored by Skegness Gateway
Winner: Eloise Rimmer
Active Club Award sponsored by Let's Move Lincolnshire
Winner: Lincoln Invictus Football Club
Outstanding Contribution to Sport & Physical Activity Award sponsored by Leonardo
Winner: LincolnBasketball
Uniting Lincolnshire Award sponsored by Active Lincolnshire Wheelchair Basketball
Winner: Jo Knight - YMCA Lincolnshire
Click here for more information about the Lincolnshire Sport & Physical Activity Awards.