Getting your Business to Net Zero - find out how you can save money and future proof your business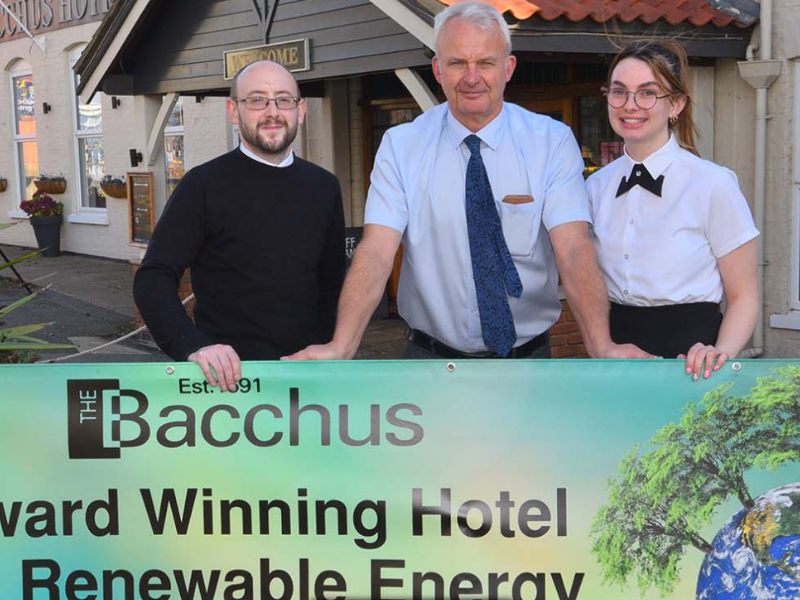 Team Lincolnshire joined up with Lincolnshire County Council and Business Lincolnshire to highlight how businesses can future proof against rising energy cost by incorporating sustainable solutions.
Experts came together at The Bacchus Hotel in Sutton on Sea to share how renewable, low carbon and low energy systems can support your business towards Net Zero whilst also reducing energy overheads.
If you couldn't attend the event you can download the presentations from keynote speakers and also watch a short video of the event highlights.
---
The 'Getting your Business to Net Zero' event is free to attend and sponsored by Team Lincolnshire, Business Lincolnshire and Lincolnshire County Council, and will hear hotel owner David Smith share his first-hand experiences in helping to create a greener, more sustainable future.
There will also be talks and exhibition stands from suppliers who can advise on how to make your buildings more energy efficient, reduce your energy costs and help you move your business towards becoming net carbon zero as well as guided tours of the building and its sustainable developments.
Hotel owner, David Smith, said:
"After becoming increasingly concerned by climate change and how it might affect my local community, I wanted to ensure the business was ahead of the curve when it came to going green."
Over the last three years, David has invested in ground-source heat pumps, solar panels and battery storage that are expected to reduce his gas and electricity consumption by an astonishing 65% and 60% respectively.
This has not only reduced the environmental impact of The Bacchus Hotel but has also helped save money and future-proof the business against rising energy prices.
The Bacchus now aims to be the UK's first net zero hotel by exporting more energy to the Grid than it imports.
Dan Clayton is Sustainability Manager for Lincolnshire County Council. Dan added:
"With utility costs on the rise and set to continue on the same course, it's more important than ever for businesses to cut costs by reducing their energy usage.

"We are pleased to host this event at the Bacchus Hotel where owner David Smith will be on hand to share his expertise and experience of reducing his gas and electricity consumption.

"It will also be a fantastic opportunity for attendees to speak to local suppliers of renewables and energy efficiency solutions about some of the opportunities available to them to save money and future proof their business."
Expert in sustainable building services and Team Lincolnshire ambassador, Lee Marshall from Viridis Building Services, is one of the guest speakers at the event.
Lee says:
"It doesn't have to cost the earth to save the earth.

"Sustainability. It runs through everything we do. From the strong, long-term relationships we build with our clients, to the way we manage our business, to all of the services we offer.

"But we never get carried away and lose sight of the realities of a project; the brief, the budget, the schedule, the end user."

Event programme

09:30 Tea and Coffee
10:00 Welcome and Introduction
Cllr Colin Davie, Lincolnshire County Council
10:05 The Bacchus Hotel's Net Zero Journey
David Smith, owner of the Bacchus Hotel
10:15 Grid Capacity, Community Energy and Building Design
Aaron Sadd, Planner, Western Power
Vicky Dunn, Director, Grimsby Community Energy
Lee Marshall, Managing Director, Viridis
11.15 Break and Refreshments
11.30 Local Suppliers and Opportunities for your Business
Richard Jones, Managing Director, Amelio Solar and EV Camel
Spencer Coffin, Director, Procure Direct
Peter Cox, Business Development Manager, myenergi

12:30 Tours of the Bacchus Hotel and Networking Lunch
14:00 Event close