University Secures UKRI Funding for Transformative Centre for Doctoral Training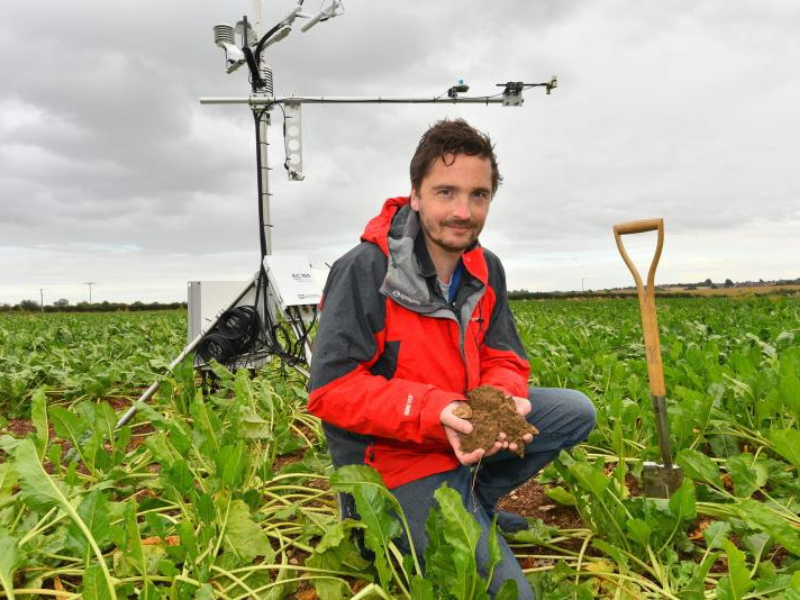 The University of Lincoln, in collaboration with leading partner institutions, has successfully secured £10.6M in funding from UK Research and Innovation (UKRI)
The University of Lincoln, along with leading partner institutions - University of Aberdeen, Queen's University Belfast and University of Strathclyde have established SUSTAIN, a transformative Centre for Doctoral Training (CDT), which will provide a cross-disciplinary, multi-institution doctoral training program to support innovative research in the application of Artificial Intelligence (AI) to sustainable agri-food. It will cover technical and social science aspects of AI, alongside training in plant, animal and/or biosciences, tailored to individual students' needs and interests.
Whilst the agri-food sector is a key driver for the UK economy, it is also responsible for a significant proportion of Greenhouse Gas emissions and biodiversity loss. With the UK committed to achieving Net Zero Greenhouse Gas emissions by 2050 there will be a huge challenge to make the sector sustainable while also ensuring that everyone in the UK has access to food that is nutritious, delicious, affordable, and safe.
AI will help the sector achieve the rapid transformation needed to meet this challenge and SUSTAIN will train the scientists who will help make it happen. SUSTAIN will also be highly industry-focused and it is planned for every PhD project to be co-created with industry stakeholders leading to wider engagement with AI, and greater inclusion in its development and use.
Bringing together the expertise and resources of four academic institutions, SUSTAIN will span the entire landscape of UK agriculture, critical AI research areas, and the national geography of England, Scotland, and Northern Ireland.
SUSTAIN students will benefit from world-leading facilities and expert supervision. This includes the University of Lincoln's Riseholme campus with its diverse resources such as a working farm, robotics/plant labs, and the UK's first agri-tech incubator, Barclays Eagle Lab.
Alongside this the students will have access to the Global Innovation Institute (GII) of Queen's University Belfast, which is a nexus for co-innovation between researchers and industry in data security to realise the benefits of digital technologies within health and agri-food sectors; the Rowett Institute at the University of Aberdeen, including a clinical investigation unit, a metabolic research facility, a body composition suite and extensive state-of-the-art laboratories; and the Hyperspectral Imaging (HSI) Lab at the University of Strathclyde, a suite of HSI sensor equipment for applications in the agri-food domain.
SUSTAIN will be led by Professor Simon Parsons, Professor of AI and Machine Learning and Head of the School of Computer Science at University of Lincoln, Simon will be assisted by Deputy Directors Professor Elizabeth Sklar, Professor in Agri-Robotics and Research Director at the Lincoln Institute for Agri-food Technology, LIAT, at the University of Lincoln, and Professor Georgios Leontidis, Professor of Machine Learning and head of the Interdisciplinary Centre for Data and AI at the University of Aberdeen.
Professor Simon Parsons said:
"I am delighted to be leading The SUSTAIN Centre for Doctoral on behalf of the University of Lincoln. SUSTAIN will help to transform the agri-food sector in the UK through the deployment of safe, responsible, and understandable AI."
Professor Elizabeth Sklar, Co-Deputy Director, added:
"This new interdisciplinary, cross-cutting centre bridges significant gaps in sustainable AI: from farm to fork in the agri-food pipeline, from algorithm to deployment in the AI development pipeline, from researcher to end-user in the AI dissemination pipeline, and from England to Scotland and Northern Ireland in the education pipeline."
SUSTAIN's commitment to diversity, inclusivity, and environmental sustainability will ensure a comprehensive and impactful approach towards training the next generation of AI scientists dedicated to sustainable agriculture.