It's a Win for IMP & MAKER at the Midlands Enterprise Awards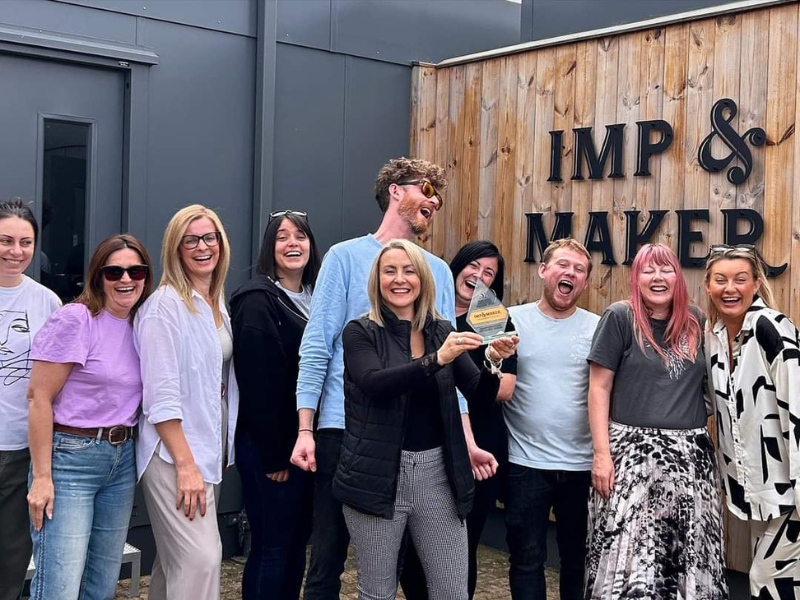 Team Lincolnshire ambassador IMP & MAKER are delighted to announce their win as Corporate Gifting Specialists of the Year – Lincolnshire at the annual Midlands Enterprise Awards 2023.
Organised by SME News, the prestigious awards, now in their sixth year, were created in 2018 to showcase and reward the achievements of innovative companies contributing to the dynamic Midlands business community. Entries to the awards are judged by an independent panel and overseen by SME News Lead Researcher Martyn Walters. Judged solely on merit, with criteria including creativity, operational excellence and customer satisfaction, the awards commend those most deserving for their ingenuity and hard work, distinguishing them from their competitors and proving them worthy of recognition.
IMP & MAKER is the brainchild of multi award-winning entrepreneur Sarah-Louise Fairburn, who founded the business in 2020 after several years' experience of working in the food industry alongside some of the UK's most reputable food retailers. Combining her extensive industry knowledge with a passionate desire to source the finest quality produce, as well as committing to supply chain transparency and sustainability, Sarah-Louise has brought together an impeccably curated collection of beautifully presented premium food, drink and gift hampers, hand packed in the heart of Lincolnshire.
The comprehensive range comprises dine-in experiences and gift hampers expertly created with exciting foodie finds from established and emerging artisan producers, farmers and makers in Britain and beyond, with corporate clients including Stratstone Ferrari, Lamborghini, Duckworth's Land Rover and Jaguar, Goldsmiths Jewellers and R&D Specialists Ltd. IMP & MAKER offer individual gifting, VIP and client gifting, bespoke thank yous for hard-working employees and everything in between, with branded packaging options available.
Described by the award judges as a 'leading provider of modern food and drink gifts' we're delighted to be recognised for our disruptive approach to revolutionising the food gifting sector standing out as a 'beacon of creativity and sophistication' with our innovative and luxury range of IMPeccable food and drink gifts to surprise and delight!
"This recognition is a testament to our relentless pursuit of excellence and innovation in delivering top-tier gifting solutions for every occasion. At IMP & MAKER, we believe in setting new standards, and our founder, Sarah Louise Fairburn, leads us with a vision of creativity, sophistication, and unmatched quality.
"We extend our heartfelt gratitude to our valued customers whose trust and support have propelled us to this remarkable achievement. Your collaboration and feedback have continuously inspired us to innovate and deliver unparalleled gifting solutions for the modern day.
"As we celebrate this milestone, we reaffirm our commitment to crafting memorable experiences that enhance your corporate relationships. Thank you, our valued customers for being an integral part of our journey towards excellence!"
Find out more about IMP & MAKER's expertly curated luxury food, drink and gift hampers here: https://impandmaker.co.uk/