Team Lincolnshire Ambassador Pledges Medical Supplies to Local Hospice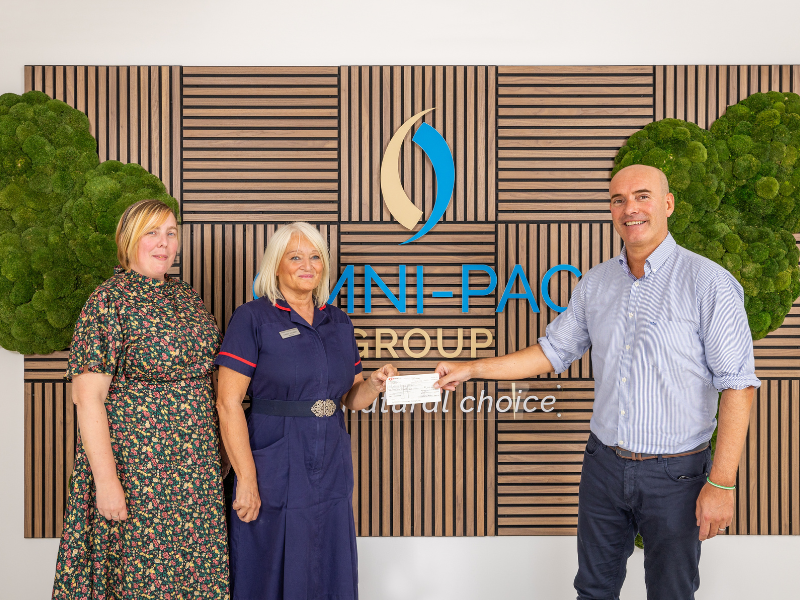 Omni-Pac joins forces with Lindsey Lodge Hospice, pledging one year's worth of medical supplies to support the hospice's vital work within the community.
This week began with Omni-Pac Group welcoming the team from Lindsey Lodge Hospice to its Flixborough and Foxhills sites in Scunthorpe on Monday, August 21st, for a tour of the facilities and to present a £1,000 donation, kick-starting a year-long partnership between the local businesses.
After numerous donations to the Grimsby charity, Omni-Pac Group has, this year, chosen to support the vital work the 119-strong team at Lindsey Lodge Hospice undertakes by pledging one year's worth of medical supplies – speeding up the delivery time of essential supplies, cutting out the middle man and reducing CO2 emissions in the process.
Every year it costs £4.4 million to keep the Hospice open - that's £8.50 every minute. And with overheads at the Hospice doubling if not trebling from 2022 – with more than £100,000 being spent on food and energy this year alone - it is donations in kind that help keep the work Lindsey Lodge provides free to so many.
James Gallacher, Omni-Pac UK Managing Director, said:
"Supporting the community is vital to how Omni-Pac Group operates, and to be able to provide some substantial support locally, here in Scunthorpe and to such a worthy cause, is priceless for us.
"The work that Lindsey Lodge Hospice does is of the utmost importance to those in the area, and, having supported the Hospice with cash donations previously, it means so much more to be able to have a hand in making their operations easier, and deliver medical supplies to aid the care and support the team delivers day-in, day-out."
Omni-Pac UK currently supplies the NHS with over 100 million disposable medical products annually. The product portfolio includes bedpan liners, slipper pans, GP bowls, measuring jugs, kidney trays, wash bowls and urinal bottles - all products Lindsey Lodge uses daily.
Karen Andrew, Operational Matron at Lindsey Lodge Hospice, added:
"This donation will help save our local NHS a significant amount of money, as they would usually fund the cost of these products to us. Due to the nature of what we do at Lindsey Lodge, these products are key to our care and the comfort of the patients. It's great to see local businesses supporting us in this way, by donating essential goods to our care team."
Hosted by James Gallacher and Alex Mihai, Marketing Manager at Omni-Pac UK, the tour was organised to give the Lindsey Lodge team an inside look into the operations behind the donation. With sustainability at the heart of Omni-Pac Group, not only will the hospice be benefitting from a year's worth of medical supplies, but this partnership will also ensure the team can continue driving towards being environmentally conscious while supporting the community.
During the tour, Kathryn Stuart, Fundraising Development Manager at Lindsey Lodge Hospice, added:
"To be able to visit the two Omni-Pac sites and see the products we use on a daily basis being made, was really eye-opening. To kick-start our year-long partnership with Omni-Pac with a tour, was the perfect opportunity to strengthen our developing relationship and get to know the team and the story behind what they do.
"We couldn't do what we do without the support of the North Lincolnshire community and that of course includes businesses donating both funds and products, as well as volunteering."
James concluded:
"We are passionate about supporting the community in any way we can. We're striving for Omni-Pac UK to be seen as a key player in both the local business community as well as the Scunthorpe community itself.
"Collaboration is integral to ongoing operations here; our door is always open to those who feel a partnership with Omni-Pac would benefit the community. As an active member of Team Lincolnshire, we want to make sure the county knows we are here, and that we can support the local people."
All imagery to be credited to: Gary Davies Photography.