Lindum Group's Apprentice Superstars Offered Full Time Roles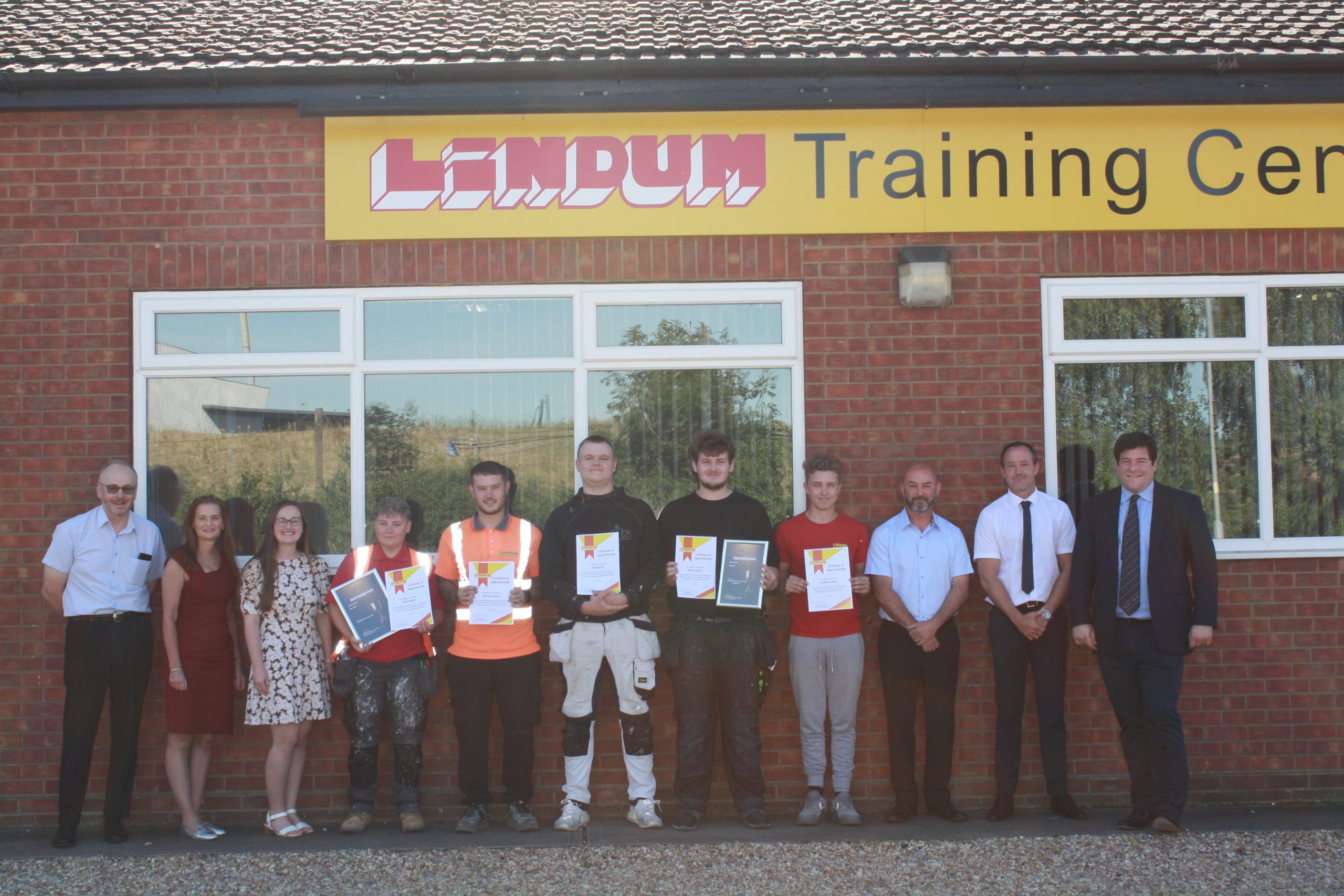 Five talented trade operatives have moved into full time employment with Team Lincolnshire ambassador Lindum Group after successfully completing their apprenticeships.
Each one has passed their NVQ Level Two course following three years of studying at Lincoln College and on-the-job training on Lindum sites.
Now, they have all been offered a job within the group. Freddie Hind and Alistair Sewell will be joining Lindum Homes as a bricklayer and joiner respectively. Katie Hughes and Jack Bassett will join BMS as a joiner and painter and decorator, while Charlie Dawson will be joining the construction team as a bricklayer.
These jobs are the top five most difficult positions for recruitment in the construction industry according a 2021 survey by the Construction Industry Training Board.
To celebrate their achievements, Lindum directors held a presentation morning, where graduates were presented with certificates and treated to a bacon sandwich.
John Levey, Group Apprentice Manager said: "I am very proud of all the guys and girls that we have graduating today. They have worked so hard over the past three years and it's great to see them getting the reward for all that hard work.
This batch of apprentices have been particularly impressive. Their work ethic and commitment to their education has been exceptional, so it's no wonder they've all been kept on by their divisions. They really have been some of the best apprentices we've ever had.
Katie has particularly shone during her time at Lindum. Earlier this year she won the Greater Lincolnshire Construction and Property Awards Apprentice of the Year title. She has now won a Student Spotlight Award for Exceptional Learning, which was presented to her on her graduation morning.
Spotlight awards are presented by fellow Team Lincolnshire ambassador Lincoln College at the end of the academic year to highlight extraordinary performances and reward continued commitment. The winners are presented with a certificate and £50 for winning.
Katie said working with Lindum is helping her develop a range of skills:
Lindum is a really nice company to work for. It has a nice bunch of people and good teams, but they also help you to progress through the company and learn new things. In the BMS division, there are lots of different things going on that you can get involved in, so you can keep learning new skills and trades. I don't think I'd get that if I took a different joinery job.
"Since completing my apprenticeship they have put me on a site supervision course, which shows they want me to progress.
"My best moment at Lindum was probably getting the Apprentice of the Year award. My favourite job was a shuttering job I did a few years ago. I enjoyed it, despite the wet and the cold, because it was something I hadn't done before and I could see the whole project from start to finish."
Alistair has also recently won an award, which he received during the celebration breakfast. For his commitment to his course and passion for the industry, Alistair won the Spotlight Achievement in Overcoming Adversity Award.
Alistair said that he chose to carry on working for Lindum because it is a good balance between a strong steady job, while also being enjoyable. Discussing why he wanted to stay on with Lindum, Alistair said: "Lindum is a really good company to work for. It is a good steady job and there's always work to go around.
"All of the teams work well together, and it can be a good laugh. You often get good teams on site and that always helps and makes the job so much better."
Alistair said he wants to continue to develop with Lindum: "For now I am just looking to really hone my skills and to continue learning. Hopefully I will make my way up the ladder, possibly to a site manager position."
Lincoln College Group Director of Communications James Newall said: "We are delighted that our apprentices have graduated into full-time employment – it's a great demonstration of our mission in practice.
"This really shows the benefit of apprenticeship training in creating highly skilled and productive people to contribute to local firms and the local economy.
The success of apprenticeship training depends on dedicated apprentices, great employers and effective training providers – it's amazing when we all get it right.
In just over two years, Lindum has had six apprentices complete their apprenticeships and been retained by their divisions. That means a 100% retention rate by Lindum Group, compared to 65% nationally.
Lindum firmly believes in growing its own talent and invests time, money and training into apprentices so they can be the best in their chosen trade.
The CITB predicts that nationally the construction industry will need 217,000 new workers by 2025 to fill the gap and meet demand.
With many people retiring or leaving the industry it is important to have a steady flow of apprentices coming through, to meet the needs of the future.
To learn more about apprenticeships at Lincoln College, visit their Apprenticeships webpage.