Two Team Lincolnshire Ambassadors Achieve Gold in Employer Awards!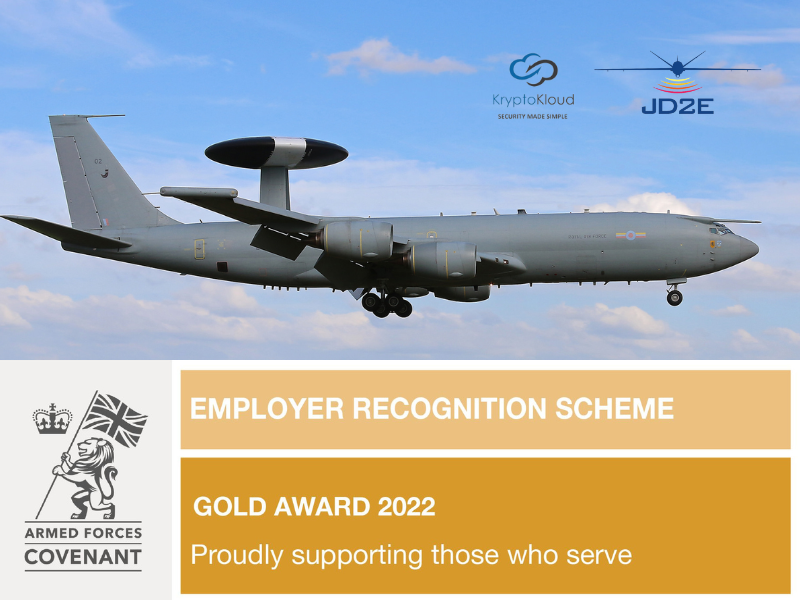 Two Team Lincolnshire ambassadors are delighted to announce that they have been awarded the Gold Employer Recognition Scheme Award for 2022!
JD2E and KryptoKloud were awarded the highest standard in the awards, which recognises organisations who pledge, demonstrate and advocate their support for the defence community. There are three tiers of award – bronze, silver and gold – for employers who advocate support to the armed forces community in alignment with the Armed Forces Covenant.

Jon, Managing Director of JD2E said:
"Receiving the Gold ERS award is an incredible privilege and great testament to the active part all our veterans and staff play in supporting our Armed Forces," said Jon, Managing Director of JD2E.
"We are incredibly proud of our Forces personnel, their families, and the essential roles they perform."
We also spoke to KryptoKloud about the win. The team said:
"Our passionate support for the armed forces community runs deeply through our ethos, and to be one of only 18 organisations in the East Midlands to achieve this accolade is truly humbling.

"We will continue to strive to support armed forces personnel, both serving members and veterans. Congratulations again to all the other Gold Award 2022 recipients."
Paul Burrows, CEO at KryptoKloud, shared the news on LinkedIn, saying:
"Great effort everyone and especially to Andy Marchant for leading on this. Fantastic achievement to get from bronze to gold in less than three years! It demonstrates our commitment to the armed forces and is reflective of the years of military service within KryptoKloud."
KryptoKloud was established with a vision to provide cyber security and resilience solutions and services. With operational offices situated in UK, it is uniquely placed to offer a suite of managed service operational offerings including digital security monitoring and incident response as well as a full portfolio of compliance, governance, audit and cyber insurance solutions.
Meanwhile JD2E is a training and simulation company specialising in intelligence, surveillance and reconnaissance (ISR), Mission Commander (MC) and Sensor Operator (SO) training to air forces and law enforcement agencies around the world.
In today's world of critical ISR missions, single opportunities and capable sensors, the "Thinking Operator" is essential for successful missions, often having the additional roles of real-time analyst and tactical interpreter. Effective training of personnel ensures the correct decision making, tactical awareness and, ultimately, mission success.
JD2E provides turnkey solutions for all sensors, platforms, crew, ISR operations, simulators and personnel with scalable, modular training and decades of ISR operational experience in all domains. Its training helps turn ISR aircraft and crew into an ISR capability. As ISR aircraft and sensors become more affordable and widespread, countries are quickly becoming aware of the need for operator training to realise the potential of the asset. JD2E has delivered sensor operator and mission commander training to several international customers and is pleased to be the provider of advanced ISR training to the UK's Royal Air Force ISR aircrew. Get in touch with the team at enquiries@jd2e-isr.com to discover more.