Sustainability Recognition for Lincolnshire based Systematic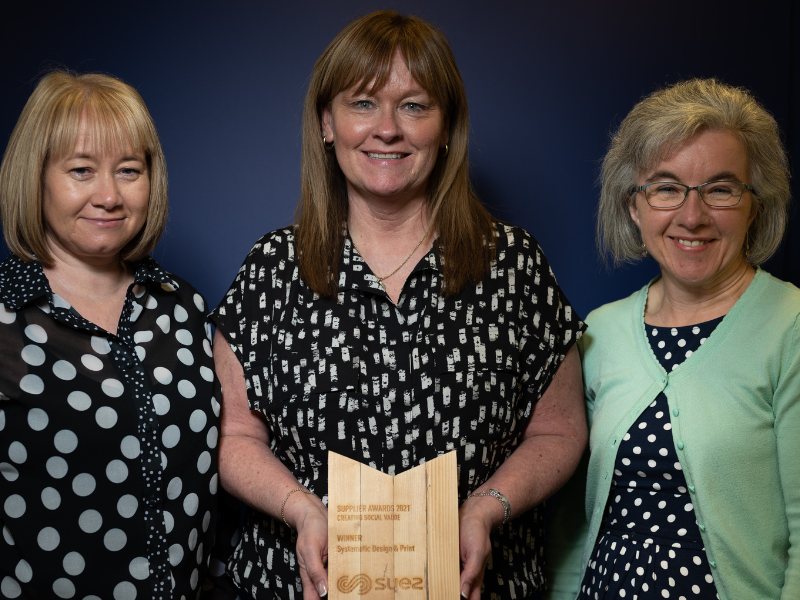 Team Lincolnshire member Systematic Print Management has recently seen two milestones, both linked to their focus on sustainability.
Leading waste management company, SUEZ, have recognised Systematic as their supplier most focused on 'Creating Social Value'. SUEZ have been used by Systematic for over 23 years and the honour was marked with the presentation of an upcycled trophy, made of reclaimed wood from Manchester Velodrome.
Julie Swanepoel presented the award on behalf of SUEZ to Tracey Brown, Account Manager at Systematic. Julie commented:
"We need more suppliers with the same level of commitment to our planet and social value."
SUEZ acknowledged Systematic's commitment to reducing its carbon footprint, from investing in their site, moving to an electric delivery fleet, and proactively sharing information which helps their clients reduce their environmental impact too.
This has led Systematic to deepen its commitment to sustainable corporate gifts, bespoke promotional products that reflect the brand and message of an organisation.
Their new sustainable corporate gift range launched in March 2022, showcasing 200 handpicked products. It blends Systematics' knowledge of promotional products that create a return on investment for their clients, with their research into the most sustainable items that the promotional product market has to offer.
Finance Director Sharon Robey commented:
"Our team are working hard to deliver on our commitment to being carbon neutral by 2025, our 50th trading anniversary. Sustainability is core to our values, and we recognise that our expertise and influence helps our clients minimise their environmental impacts too."

"The recent recognition from SUEZ is a real boost for our team, particularly given that SUEZ are pioneering sustainable solutions and innovative technologies for the UK's circular economy."
Systematic were also finalists in both the Lincolnshire Business Excellence Awards 2022 - Environmental/Sustainable Business of the Year and the Humber Renewables Awards 2022 in the category of Green Innovation, the latter, which is due to take place on Thursday 9th June.
Since 1975 family business Systematic has been renowned for print services that support the success of leading organisations throughout the UK. Yet their offer, coordinated from their Lincolnshire HQ is much more than just print. For more information please visit www.systematic.uk