First business development at the South Lincolnshire Food Enterprise Zone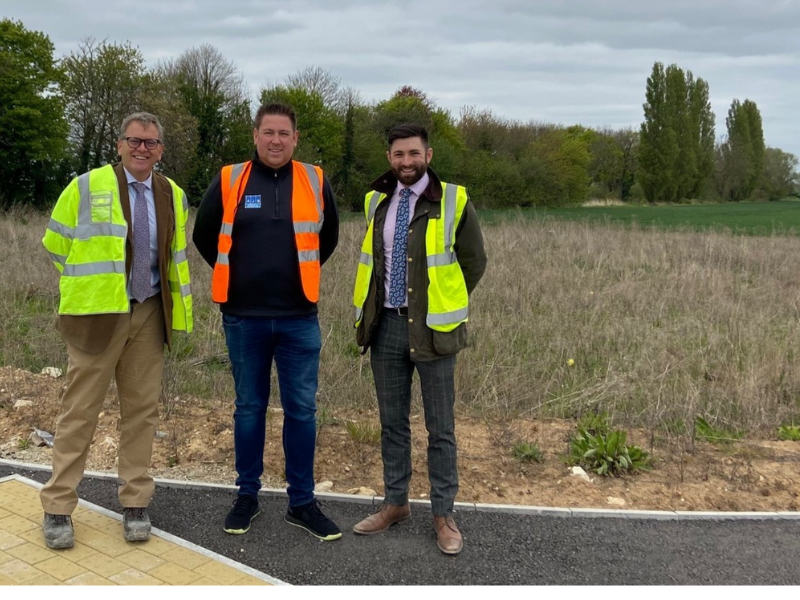 The ground-breaking South Lincolnshire Food Enterprise Zone (FEZ) based at the heart of the UK Food Valley is celebrating its first sale of land. 
AJS Control & Automation have purchased a plot covering just over 0.6 acres to build a two-storey office, research and development facility and workshop premises over 12,905 square feet.
Cllr Colin Davie, executive councillor for economy, environment and strategic planning at the county council, said:
"This is the first of many businesses that will benefit from locating at this amazing, collaborative site. The South Lincolnshire FEZ offers so much for local, national and multi-national firms at the forefront of the agri-food and technology sector.

"We're providing the infrastructure, collaboration opportunities and research capabilities that businesses need, but we're also making it quicker and easier for them to locate here."
James Taylor, Managing Director at AJS Control & Automation said:
"We have been looking for a new property to house our three rapidly growing businesses for some time now. I was on the launch call for SLFEZ during lockdown and knew this was the place for AJS straight away!

"I believe this will form a community of likeminded businesses looking to work together to aid food production sustainability. Myself and all of our team cannot wait to get to our new site.
The South Lincolnshire Food Enterprise Zone is strengthening Greater Lincolnshire's position as a key player in the agri-tech sector, and positioning the region as national leader within this field.
Close to the National Centre for Food Manufacturing, it will focus on the high value food chain, creating innovative new collaborative spaces for businesses in the food industry.
The development Food Enterprise Zones will unleash food entrepreneurs, bringing together researchers, farmers, manufacturers, distributors and retailers so they can improve productivity, supporting both existing agri-food businesses as well as those looking to invest and relocate.
Other occupiers of the South Lincolnshire FEZ include the University of Lincoln's National Centre for Food Manufacturing's Agri-Food Centre of Excellence and Institute of Technology, as well as Lincolnshire County Council's purpose-built, high quality business space, The Hub.
Sarah Louise Fairburn, Deputy Chair of the Greater Lincolnshire Local Enterprise Partnership and Chair of the Greater Lincolnshire Food Board, said:
"It's fitting that the first commercial tenant to move onto our ground-breaking South Lincolnshire FEZ is a business focusing on one of the three themes our food industry has agreed for the UK Food Valley: supporting the automation and digital transition of the food chain.

"The food industry is investing rapidly in automation, and with the University of Lincoln now the leading innovation centre for this technology in Europe, AJS can be assured that its growth will be well supported.

"In my own business I am developing new automated solutions for warehouse pick and pack and it's vital that we facilitate the growth of a thriving automation cluster in Lincolnshire."
Councillor Nick Worth, South Holland District Council deputy leader and portfolio holder for people, places, economy, added:
"It is great to see a local business take this exciting first step to join the FEZ, which will give a variety of innovative food businesses a unique location to support each other and develop together.

"I look forward to seeing more new arrivals in the coming months, and the employment opportunities and boost to the economy these will bring for Holbeach, South Holland, and the wider area."
Jasper Caudwell at Pygott & Crone, the appointed marketing agent, said: "AJS have been working alongside us from the very early stages and it gives us all great pleasure in seeing them take ownership of Plot 9. They will form an integral part in the future growth of the site and we are looking forward to seeing their development materialise.
"The completion of Plot 9 is a timely one, with the launch of the HUB building being just around the corner."