Lincoln company named East Midlands Family Business of the Year 2022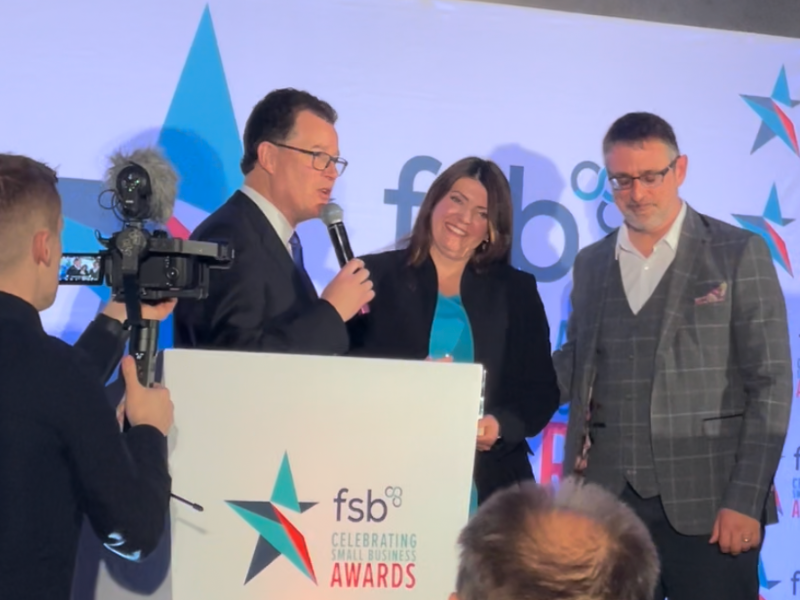 Make An Entrance Ltd, the Lincoln based bespoke doormat specialists have been named Family Business of the Year for the East Midlands, in the highly respected FSB Celebrating Small Business Awards.
Finalists enjoyed a glittering awards ceremony this week at the Leicester Marriott Hotel, where the winners were named in 12 highly competitive categories.
The Federation of Small Business (FSB) Celebrating Small Business Awards are a celebration of the achievements and contributions of small businesses and the self-employed across the UK.
Stuart Burlton, Managing Director, said:
"We are overwhelmed and honoured to win this award.

It is a huge pat on the back for the unrelenting hard work and dedication of every single member of our team and gives us a renewed enthusiasm to keep pushing forward."
The Make An Entrance business, headed by husband and wife team Stuart and Samantha Burlton, stemmed from charitable roots. Back in the 1990's Stuart's Father, Allen Burlton, ran a factory for the Royal School for the Blind where employment opportunities were created in the
making of traditional hand stitched coconut doormats.
Stuart and Sam Burlton created makeanentrance.com in 2005, early in the world of ecommerce, to deliver bespoke doormats to homes and businesses throughout the UK.
Now, 17 years later, the business is still going strong and has recently enjoyed a period of substantial growth and development.
In 2022, the awards judged how well businesses had adapted and changed to meet the challenges of the Covid-19 pandemic. The family are enormously proud of the resilience that their business has shown during the most challenging trading conditions for decades.
The entrepreneurial spirit at the heart of Make An Entrance has seen many successes over the past two years including:
A new business to business brand and dedicated website for logo mat sales at businessmatpeople.co.uk
Four new team members were taken out of unemployment and trained in traditional mat making, a skill which had almost been lost until Make An Entrance revived it in 2019.
Innovation and investment in machinery to produce new product and exciting product lines for residential customers
The opening of a second workshop to house the ever-growing team and product range
Make an Entrance will now put Lincolnshire on the map as they represent the East Midlands region at the national awards ceremony on 19th May in Glasgow.