The Hub getting ready for business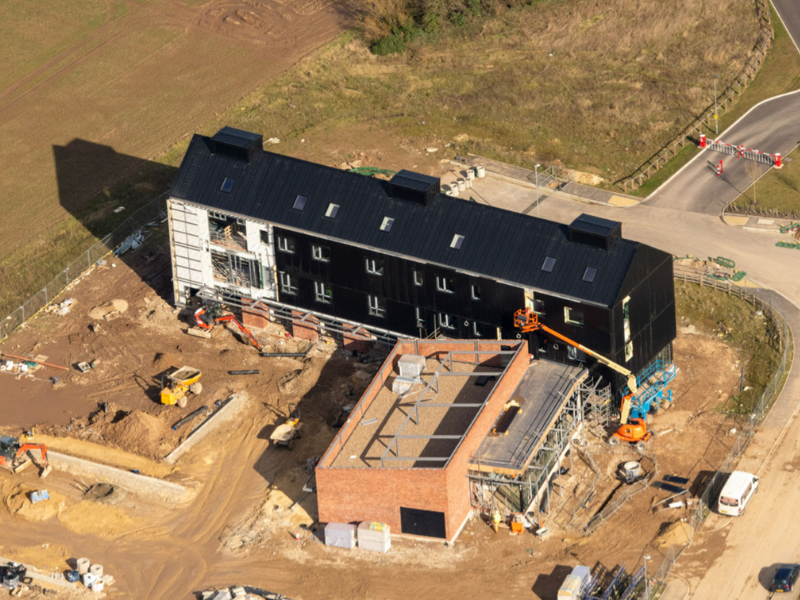 Businesses will soon be able to express an interest in office and workshop space at The Hub building at the South Lincolnshire Food Enterprise Zone.
Having already successfully marketed the majority of development plots on Phase I of the FEZ, Team Lincolnshire ambassadors, Pygott & Crone, have been appointed as the commercial agent for The Hub building.
Their success on Phase I has resulted in 7 out of 11 plots under offer within the first year of being on the market.
Cllr Colin Davie, executive councillor for economy and place at the county council, said:
"With excellent progress being made on the building, I'm delighted that Pygott & Crone will soon be able to market the office space within the Hub.

"They have a great understanding of the ethos of the FEZ and what it will bring to Lincolnshire and our residents.

"The Hub building will be a great centre for smaller businesses to collaborate and benefit from brand new facilities, research and training opportunities."
Sarah Louise Fairburn, Deputy Chair of the Greater Lincolnshire Local Enterprise Partnership and Chair of the LEP's Food Board, said:
"The Hub is an exciting development at the FEZ that will provide the connections and support for SME businesses in the agri-food tech sector to grow, innovate and collaborate.
"The LEP is pleased to have provided the £6.3m to enable construction of this extremely important building for knowledge transfer and business support within the UK food Valley."
Tim Downing, Director at Pygott & Crone, said:
"Our commercial team are really looking forward to marketing this innovative development which offers much needed space for food related business in the region.

"The hub will enable business in the food sector to collaborate with other like minded companies across the whole enterprise zone and will help cement Lincolnshire's reputation as the centre of the UK Food Valley.

"Our UK wide network of offices have already received many positive enquiries."
The Hub brand has also been revealed, designed by fellow Team Lincolnshire ambassadors - Bourne-based Green Trumpet, to sit alongside the existing branding of the FEZ.
For more information about locating at the Hub building, please email zoe.bursey@lincolnshire.gov.uk.
More information about the FEZ can be found at southlincolnshirefez.co.uk.