Say Hello to Go Pedal!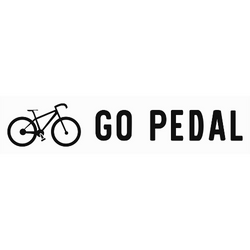 This month we say hello to one of our newest members, Mark Noonan, in his blog as he has launched Go Pedal – a company dedicated to all things cycling!
First off, hello Team Lincolnshire! I'm delighted to be joining you as a Team Lincolnshire Ambassador and I know that Go Pedal can provide a unique way of showing off all that our fine county has to offer - whether that's promoting the leisure and tourism agenda or providing unique and memorable way to support investment.
I set up Go Pedal in 2021 with a track record organising bespoke corporate and leisure cycling tours and events usually for networking or team building. Earlier this year I decided that the time was right to launch my own business doing just that. With much of my career in property and construction, mainly in growth roles, I really understand the value and depth of relationships formed through a shared passion. I hope to bring this passion to showing off Lincolnshire.
So Go Pedal will hopefully be working closely with Vicky and the Visit Lincolnshire team to promote the obvious opportunities for leisure travellers to visit on their bikes and tour from Castle to Shore. The point of Go Pedal is that we help you ride where you want to go, so will be actively promoting the opportunity to go pedal down some of our wonderful roads and see the variety our county has to offer and we're looking forward to pulling together ways to do this.
Perhaps less obviously, I would like to see Go Pedal supporting Team Lincolnshire ambassadors more widely, and especially in memorable ways to show off why this is such a great place to invest. Want to attract companies to the UK Food Valley? How about a customer and supplier cycle ride from FEZ to FEZ, stopping to show off agri-tech highlights along the way? Supply chain collaboration or investor tours? I can assure you those who do it by bike with Team Lincolnshire Ambassadors alongside them will be better remembered than the few squeezed into cars.
But I won't bang on too much now; I've been invited to host a coffee club in February, which I'm really looking forward to. If these brief words have given you just a taste of the potential, I'm really looking forward to exploring more with you in February. Of course, if you just want to do something for your own teams, own companies, own purposes I'd be really pleased to have a chat but I'm really excited about how Go Pedal can support all the efforts of Team Lincolnshire!
Visit our website to find out more! Go Pedal : bespoke planning and support for cycling tours and trips