Spotlight on LIVES: The Home of Life Saving in Lincolnshire
At LIVES they literally save lives in Lincolnshire. When someone in our rural county calls 999 in a medical emergency, their emergency responders are dispatched by the ambulance service to provide immediate care. Because the responders are based in their own communities, they arrive quickly and bring lifesaving skills and equipment to begin emergency care when minutes matter.
Last year responders volunteered over 67,000 hours of their time and attended more than 10,000 patients, including 587 cardiac arrests (2021). Of these incidents, a LIVES volunteer was on scene ahead of the ambulance 84% of the time, enabling more than 1,200 ambulances to be redeployed to other emergencies. The impact they make to people in medical need is vast.
We spent some time with Nikki Cooke, CEO of LIVES at their headquarters in Horncastle where she told us all about LIVES, and what is planned for the future.
The charity was formed in Lincolnshire in 1970 with three main aims which are the delivery of emergency response to the residents of Lincolnshire, advancing the cause of Pre-Hospital Emergency Medicine, both locally and nationally, and sharing their life-saving skills through expert training. These aims remain as true today as they did 50 years ago.
LIVES consists of 100's of volunteers alongside more than 100 paid employees who are from all walks of life. Comprehensive training is undertaken by everyone joining the LIVES team and there are differing levels of responder dependent on their professional qualifications and experience. Many LIVES responders are ordinary people, doing extraordinary things.
Volunteers come to LIVES with little or no previous medical experience, just a willingness to learn life-saving skills and give up some of their time to respond to calls for help in their community. They work alongside medical professionals including doctors, nurses, paramedics, and highly qualified volunteer Critical Care Responders who specialise in delivering rapid, advanced treatments, often in locations which are miles away from the specialist hospital facilities the patient needs.
We have a passionately held belief that Lincolnshire should be a safe place to live.
LIVES is unique and something Lincolnshire should be very proud of and support. There isn't another organisation within the UK that delivers what LIVES does to the people of Lincolnshire. They need your help, the charity has a £4million turnover, but with basic kitbags costing £3,000 and advanced kitbags costing £25,000 this funding does not go very far.
Nikki said:
Like all organisations we aim to manage our finances to deliver a surplus. We understood the need to diversify and be more business focused in our funding streams rather than solely relying on the generous charitable giving that had sustained us in the past. As a charity our profits allows us to make a greater impact for the Lincolnshire community. We measure success in the lives that we save.
Over recent years LIVES has developed additional funding streams to enable them to keep delivering this vital service to the residents of Lincolnshire with some certainty and security. Alongside the traditional charitable giving they are commissioned by the NHS to deliver their Community Emergency Medicine services, enabling many more patients to receive treatment in their homes and avoid a trip to hospital. This reduces the burden on the NHS and hospitals – one statistic showed that 65% of the patients attended by the LIVES Falls Response team did not require a trip to A&E.
The biggest change to their funding model is the development of the LIVES Education business which delivers first aid and pre-hospital training courses to industry, businesses, and education providers across the UK. These packages are tailored to each client and designed to empower people to respond to the risks identified at each location. Some of their bigger clients include Lincolnshire Fire and Rescue, University of Lincoln, and many prominent Lincolnshire companies including Siemens.
Nikki further commented:
Our training is immersive and we're proud that our professional team of educators are highly experienced front-line responders. When they train, they're teaching from their real-life experience, not just something they've read in a book. We strive to make every course immersive, using lifelike simulation mannikins and real-life casualty actors, we create situations to make the training as real as possible to fully prepare our learners for the challenges they might face.
Nikki was also very excited to give us an update on the progress of their new headquarters which will be located at the Lincolnshire Showground.
The headquarters which has been a collaboration between several Team Lincolnshire ambassadors including architects Polkey Collins, landscape designer Influence and environmental consultants Evolve Geo Environmental and Delta Simons will provide a centre of excellence for education and training in pre-hospital emergency medicine, which will sit on a three-acre site and will cost around £10million.
Their vision is for a specialist centre that provides training to the amazing and dedicated volunteers, but also to anyone who is interested in learning lifesaving skills. From local school children who can learn basic CPR to healthcare professionals across the country who wish to expand their skills in trauma care.
Project Lifesaver will enable LIVES to deliver training and educational experiences in a wide variety of settings from a basic classroom to fully immersive simulation. The benefit of having all levels and types of training and simulation environments means that they can build on the learner's experiences incrementally allowing them to succeed and develop new skills. This works for all levels of learner, from a first aider or rescue team, up to a prehospital critical care team.
The training centre will have the capacity to host real-life scenarios, including road traffic collisions and accidents within a home setting with a truly immersive suite where weather, noise and lighting conditions can be controlled. Nikki said:
This will be the best education for anyone who works in pre-hospital emergency medicine. There really is nothing like it in the UK and the interest that we've had from all kinds of clients and partners at this early stage is really encouraging
Planning permission has been submitted as we go to press, with a proposed start date of Autumn 2023 with a 14 month build time.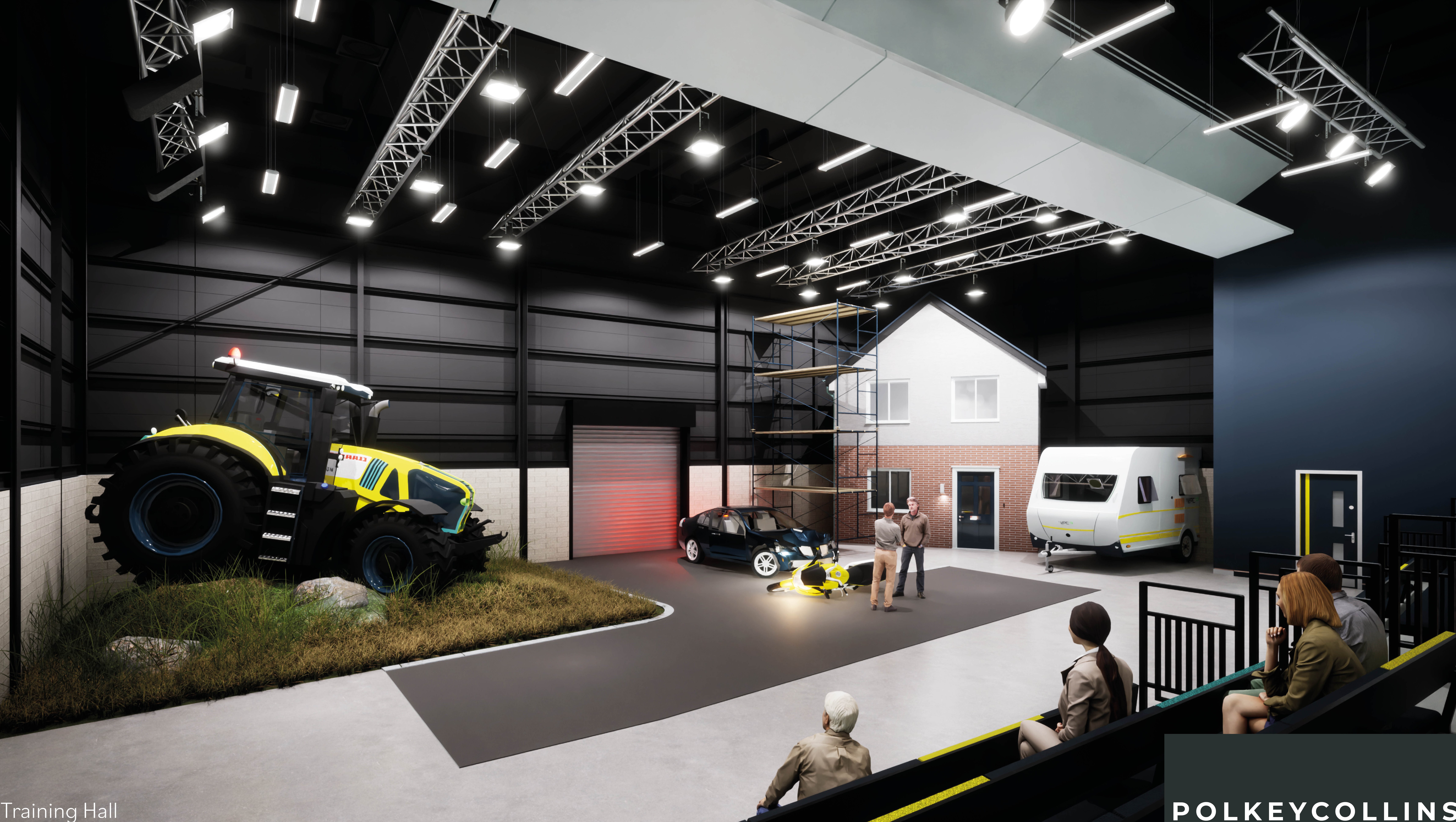 We asked Nikki why the Lincolnshire Showground?
She replied:
We had three priorities for the location. It had to be accessible for our staff, central for volunteers who travel the length of our county from the Humber to the Wash and be accessible from outside of Lincolnshire for those will be coming to train in the Centre. The site at the Lincolnshire Showground meets all three of these requirements, and the visibility of the site will help to increase the profile of LIVES too.
We also thought our aims aligned perfectly with those of the Lincolnshire Agricultural Society in their charitable support of rural communities.
There are sponsorship opportunities for the new headquarter buildings and LIVES are particularly keen to engage with businesses to discuss their bespoke training packages.
If you would like more information about how you can help LIVES please contact Nikki Cooke at Nikki ncooke@lives.org.uk or via our ambassador page.