Industry Insight: How the Circular Economy works in practice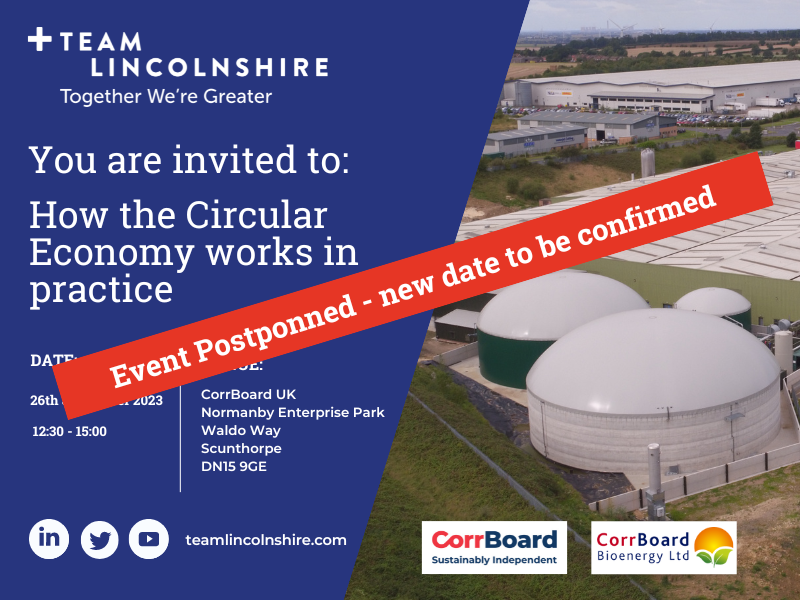 Due to unforeseen circumstances this event has been postponed. We apologise for any inconvenience caused. A new date will be published shortly.
CorrBoard Bioenergy is responsible for the innovative anaerobic digestion of food waste, which is then turned into energy that is used to power the manufacture of corrugated sheet at CorrBoard UK.
Join us for our next Industry Insight event; Circling back around: how a circular economy works in practice, hosted by Team Lincolnshire ambassador CorrBoard UK
Hear from anaerobic experts as they talk about how bulk food waste, normally destined for landfill, could be converted into biogas, electricity and heat. Learn how CorrBoard Bioenergy sets about changing the process and showcasing what can be achieved when we think differently.
The reality in practice is that CorrBoard Bioenergy delivers true circularity, a link between food process waste, energy generation, packaging material manufacture, to the food processor in the form of packaging, and around again.
The Session:
Delegates of the Circling back around session will receive two guided tours of CorrBoard Bioenergy and CorrBoard UK.
During the first tour you will have the opportunity to visit CorrBoard Bioenergy and to see the Anaerobic Digestion (AD) process in practice, with insight from an anaerobic expert, there will be opportunity to ask questions.
The tour will show how food waste can be redirected from landfill to an AD facility, which then converts this to biogas that is used to power a manufacturing facility.
The second tour will then take place of CorrBoard UK, the sheet feeding specialist. Delegates will see how the plant is powered by biogas and how this supports the wider sustainability targets of the company.
Taking questions throughout, Managing Director, Rob Burgin, will explain how the business has reduced its environmental impact and what more needs to be done for it to continue on its sustainability journey as it works towards its ambitions to become net zero.
This is an exclusive Team Lincolnshire Ambassador only event and includes a light networking lunch. Places are limited to 20 and you can register your interest by emailing the team by 12th September, advising of any dietary requirements.
Rob Burgin Bio:
As Managing Director for CorrBoard UK, Rob brings more than 25 years of experience within the manufacturing sector to his role.
Since he joined the organisation in January 2022, he has made it his priority to establish the company within the business community. As well as taking the opportunity to share best practice, in particular through CorrBoard's intrinsic partnership with CorrBoard Bioenergy, he also wants to learn from others.
As a local employer, Rob also hopes to showcase the career opportunities that exist within the business, from apprenticeships right through to senior management roles.
You can find out more about CorrBoard UK here.