Elite performance isn't just in sports: the traits we look for and adhere to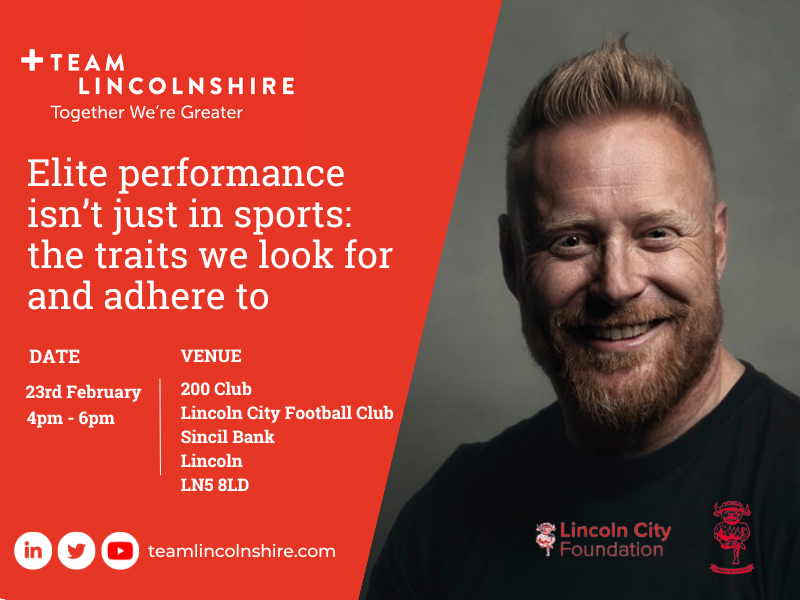 Join us at our next physical networking event which is being hosted by the Lincoln City Foundation at Lincoln City Football Club.
Paul Hughes MSc (with Distinction) FCIL RAF, Director of Performance & Delivery at Lincoln City Foundation, will be talking about developing your team and leveraging their true potential. Hear how businesses can learn from league one football and that elite performance isn't just reserved for sports.
There will also be the opportunity for a behind the scenes tour of the club and to meet a player or two.
We are inviting ambassadors to 'bring a guest' to this exciting event. Do you have a business contact who is not already part of Team Lincolnshire? We would love for you to bring someone along to hear about our ambassadorial programme and hopefully join the team!
The event will also include a drink on arrival and a lite bite, a cash bar will be open for any additional drinks.
To secure your place at this exclusive Team Lincolnshire ambassador only event, please email the team by Friday 17th February, stating if you will be bringing a guest and any dietary requirements.
Paul Hughes Bio
Paul Hughes is a multi-award winning, multi-lingual and multi-talented entrepreneur.
A former RAF crewman, United Nations Weapons Inspector and Interpreter, his experience and knowledge is vast, underpinned by his commitment to being what he calls a 'Disciple of Elite Performance'.
Paul's impressive 23-year military career commenced in 1989 – a vocation that focused on operations in the Middle East, North Africa and Afghanistan, as well as a high profile secondment with the United Nations Special Commission to Iraq during the era of Saddam Hussein.
A specialist in a range of fields, holding several Masters' degrees (with Distinction) and a speaker of four languages, Paul initiated and led the RAF Business Language Champion Youth Engagement Initiative in 2009, which saw his volunteering efforts go on to win national and international awards for the promotion of languages and also inclusivity within inner city schools up and down the UK.
A motivational speaker, Paul draws from his rich array of experiences and expertise to speak to thousands of people all around the world, inspiring them to overcome adversity and drive towards their objectives.
Currently the Director of Performance & Delivery at Lincoln City Foundation, but also CEO of a Forensic Research company and co-director of a Production Company, which has had a Sunday Times bestseller in 2022. Not forgetting he is also a Hunter on Channel 4's Hunted and Celebrity Hunted!