Leading a Food Revolution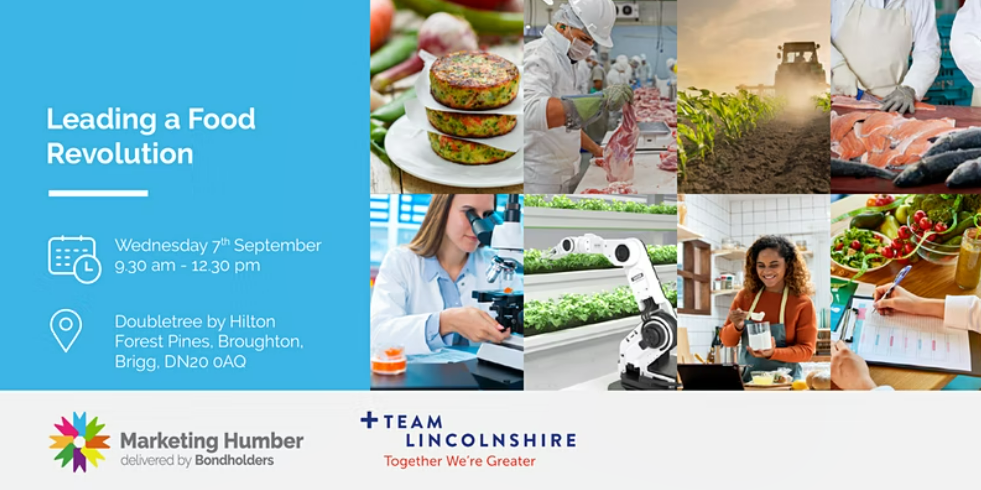 Local, national and international investment, the future is looking bright for our regions as we lead a food revolution.
Following numerous disruptions to the global food supply chain and an ever-changing demand landscape, food and drink businesses are no stranger to adapting to change and delivering under pressure. Led by our panel host Martin Collison, our fantastic speakers will discuss some of the biggest challenges facing their sector, while highlighting stories of success and diving into some of the game-changing opportunities on the horizon to future proof their businesses.
With a growing national obesity crisis, rising bills, the pandemic, pressure to reduce our carbon footprint and global food shortages highlighting food insecurity across the globe, we are hungry for a food revolution.
The Humber and Greater Lincolnshire employ over 103,500 people in our food and agriculture sectors combined, making our neighbouring regions the country's largest food producing area. Our regions are perfectly placed to play a crucial, leading role in shaping a future system that is fair, healthy and sustainable for both people and our planet.
Now is the time for exciting developments to come to the fore - including innovative technology, healthy protein alternatives and low carbon solutions - to be harnessed in order to accelerate positive changes within the food and drink sector.
Collaborating with our local food and drink businesses from global brands to artisan businesses, we're building a deluxe grazing table full of high quality locally sourced produce, to give you a taste of the best food and drink our regions have to offer.
Local, national and international investment, the future is looking bright for our regions as we lead a food revolution.
Meet the Speakers
Martin Collison, Agrifood Advisor to the UK Food Valley Team within the Greater Lincolnshire LEP: With over 35 years experience in the agrifood industry, Martin will lead the discussion around what matters most right now in the food and drink sector, including the impact of the national food strategy. Setting the scene for our guest speakers to showcase local projects harnessing innovation, new technology and low carbon solutions to accelerate positive change within the food and drink sector.
Listen to our latest Business Voice podcast featuring our host Martin Collison
Anne Laudage, Interim Marketing Manager, Young's Seafood: will share Young's vision for a fairer, healthier and more sustainable future, demonstrating how they are adapting to future needs through innovation and driving positive change in the sector with a focus on sustainability, health and wellbeing.
Hilary Hamer, Chair, Hull Food Partnership: will share the ambitious and innovative projects Hull Food Partnership is working on to tackle food inequality in Hull. Aiming to be a resilient and sustainable food city for the future, the partnership demonstrates what can be done in growing and supporting communities, showing a working example of producing good fresh food in a city environment.